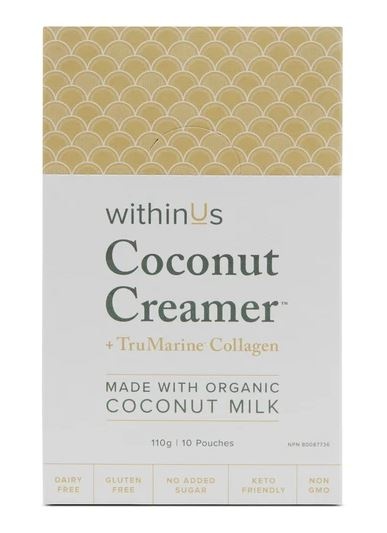 withinUs

TruMarine -Coconut Creamer + Collagen Pouches
withinUs Coconut Creamer + TruMarine™ Collagen individual pouches are perfect to keep in your purse, keep at your desk, or perfect for travel.
Product description
Products Descriptions
withinUs  This creamy blend combines the health benefits of organic coconut milk and withinUs TruMarine™ Collagen. The perfect combination of these ingredients provides healthy fats and MCTs for sustained energy, and essential amino acids for collagen production within the body.
FEATURES AND BENEFITS
Each box contains 10 single serving pouches


Premium-Select Grade, ethically sourced, organic ingredients 

Certified Organic, Ethically-Sourced Coconut Milk Powder

The healthy fats found in coconut can help lower cholesterol levels, improve blood pressure, and increase heart function and health. 

The perfect addition to your coffee, tea, or smoothie
HOW TO USE
Combine 1 serving pouches of TruMarine Coconut Creamer with your favorite hot beverage. Blend or stir until fully mixed and you're ready for the day!
Did you know? Collagen is the most important structural protein in the body, representing 75% of our skin & 7% of our total body weight.