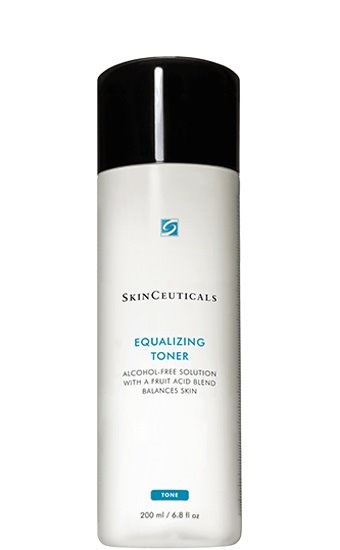 SkinCeuticals

Equalizing Toner - 200ml
Our refreshing toner helps restore the skin's protective pH while gently removing excess residue of impurities or makeup.
Product description
Formulated for all skin types, this alcohol-free toner helps balance, refresh, and restore the skin's protective pH mantle while removing residue. It gently exfoliates dead skin cells leaving the skin soft and toned. 

 
FEATURES AND BENEFITS 
Hydroxy acids gently exfoliate dead skin cells
Anti-bacterial, anti-fungal and anti-inflammatory
Botanical extracts such as witch hazel, rosemary, thyme, aloe and chamomile
Soften, soothe and tone the skin
Fragrance- and oil-free
Ideal for all skin types
APPLICATION
Twice daily after using a SkinCeuticals cleanser, spray a small amount onto a cotton ball and smooth over face, neck and chest.
PS Pro Tip: Soak a thin layer of gauze with the Equalizing Toner and lay on the face for 10 minutes as a sheet masque. 
In-Clinic Treatments
Do you know that our Customized Glow Facial will help lift off any dead skin cells that might be congesting your skin or making it dull to reveal an immediately brighter and more radiant complexion. Bonus: your products will penetrate deeper into your skin following a medical facial. This will ensure even better results from your homecare routine. It's a win-win, trust us on that one!
Book now! https://projectskinmd.com/treatment/medical-facials/
Best paired with
Complete your skincare regimen with these related products